Circle of Artists - Krug Khudozhnikov - Круг Художников
1926 - 1932, Member List
Many of the young artists in the post-revolutionary Soviet Union of the mid 1920s could not find an answer to their social, artistic and political ideas in any of the existing Avant-garde groups and movements. As a result, a new movement was created in 1925: the Circle of Artists.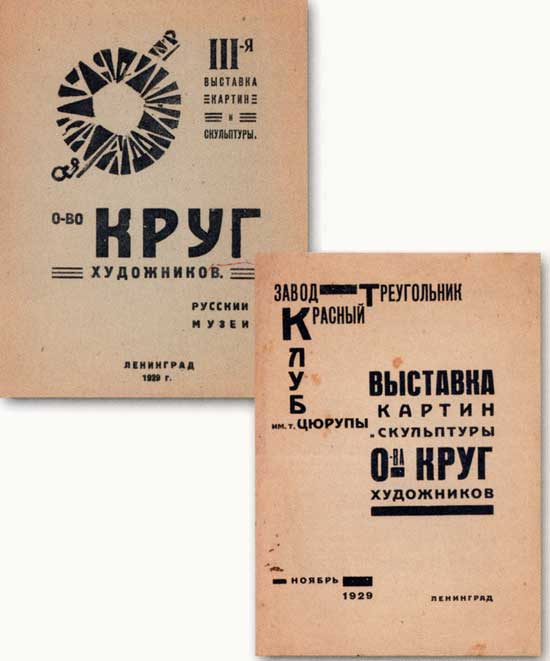 Covers for exhibition catalogues of the
Circle of Artists
group. 1929.
The initial group included mostly VKhUTEIN graduates of 1925, former students of A.Karev, A.Savinov, K.Petrov-Vodkin and A.Matveev, who have reached an agreement and unity in their view of art. The main initiators were V.Pakulin (who then was elected chairman) and A.Pakhomov. Among its members were P.Basmanov, L.Britanishsky, A.Vedernikov, M.Verbov, L.Volshtein, M.Gelman, T.Gernet, V.Denisov, D.Zagoskin, A.Zaitzev, B.Kapliansky, T.Kupervasser, N.Mogilevsky, P.Osolodkov, A.Pochtenny, A.Rusakov, A.Samokhvalov, N.Svinenko, M.Sutzkever, G.Traugot, M.Fedoricheva, S.Chugunov (secretary), E.Petrova-Trotzkaya, I.Orekhov and others, at first 18 painters and sculptors, and later about 40 members in all.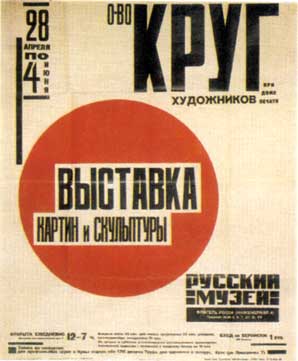 2
nd
1 Exhibition of the
Circle of Artists
group. 1928.
The Circle of Artists declaration stated the group's aim to create in art, by means of the painting or sculpture as a specific artistic expression, one among many tools for organizing life, the age style.
The first exhibition of the Circle of Artists was held in 1927, During preparations for this exhibition, the members of Circle of Artists have heard a series of reports and lectures on various questions of the visual arts, by renowned experts such as N.Punin and N.Tarabukin.
Two other major exhibitions were held in 1928 and 1929. In addition, the group's work was exhibited in the House of Educational Workers in 1927; in the "Red Triangle" factory club in 1929; and at the exhibition "Modern Artistic Groups of Leningrad" in 1928-29. Summarizing exhibition was held in 1930 in Kiev.
The work of these young artists has drawn attention by their distinctive search of form, their aim to professional excellence, their interest in the subject of the new times. The artists reached out to tradition of the "Ancient Russia" in their tendency toward monumental art operating in symbols. The Circle of Artists hoped to "lay the basis for the solution of theme and form in the modern painting". They based their work on the realistic method, claiming that "the subject of the painting must be such meaningful phenomena, crystallized by the epoch which may provide stability through time and monumental presence of form".
In 1929 several members of the Circle of Artists have left the group and joined AKhR, almost half the members changed with the joining of many young artists up until 1932. However, for most of them this group was a temporary stage.
2
nd
1 Exhibition of the
Circle of Artists
group. 1928. Left to right, top row: A.L.Malakhin, A.N.Samokhvalov,
A.F.Pakhomov, Ya.M.Shur, V.A.Denisov, D.E.Zagoskin, M.F.Verbov, A.I.Rusakov, T.E.Gernet, P.A.Osolodkov,
L.A.Karateyev, V.I.Malagis; second row: M.A.Fedoricheva, G.B.Piankova, T.I.Kupervasser-Rusakova,
N.V.Ivanova-Leningradskaya, N.S.Mogilevsky; bottom row: G.N.Traugot, S.A.Chugunov, G.I.Ivanov, V.V.Pakulin, E.S.Zabrovski.
From June 28th till December 10th 2007 an exhibition was held at the State Russian museum, St.Petersburg, in the Benois Wing of the Mikhailovsky Palace. Visit the exhibition page of the State Russian Museum website.