ZORVED - Matiushin's school - ЗОРВЕД
1923 - 1932, Member List
In 1923 Mikhail Matiushin, a musician, composer, painter and colour theorist, and his students have created a new way of seeing art, a new, clear vision. They called it: ZORVED, from "zorko" and "videt" (clearly see) or, in another interpretation, from "zrenie" (vision) and "vedanie" (knowing). Among members of this group were the Ender family - Boris, Maria and Ksenia Ender, Nikolai Grinberg, Nikolai Kostrov, Vaulina Olga and others.
The fundamental concepts of Matiushin's worldview were called "Organic Culture" and "Spatial Realism". He has also adopted these names for the workshops he taught. There he introduced a programme, together with his pupils, including yoga, meditation and various exercises designed to "create and develop the artist". These new techniques combined with the whole body to create physical possibilities of perception called "expanded" or "amplified" vision. It was not only from the eyes, but expanded to involve other senses and thought. This technique was supposed to help stimulate centers of vision located in the rear lobes of the brain. For his theories to be acceptable politically, Matiushin had to express himself in terms of physics, physiology and chemical processes in the human body, in other words - scientifically.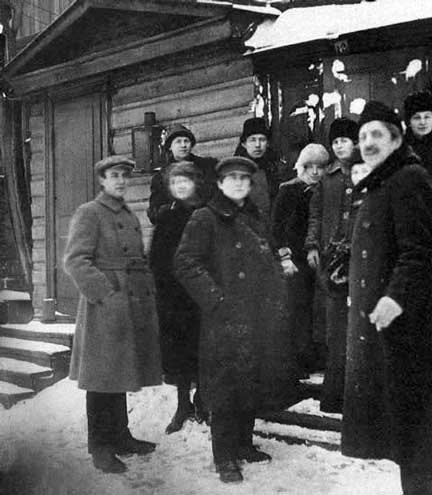 B.Ender, N.Grinberg, K.Malevich, P.Mansurov, O.Matiushina,
M.Ender, M.Matiushin, K.Ender. 1918.
In 1914, during his observation of nature, Matiushin discovered that the "line" usually seen by the observer, the line coming out of him and pointing forward, is but part of the visual possibility. In fact, he felt and then saw the line coming out pointing backwards, in the opposite direction, of which the observer is usually unaware. He suddenly understood that the perception forward limits the observer and therefore presents nature itself in a limited way. Nature is fully around us, 360 degrees not only in plane, but in space, meaning the observer is to learn to observe what is above and below, as well.
He has then studied organics and discovered clear evidence of this newfound understanding: in the theory of the cell and its development; in the growth of plants and simplest organisms. The growth of each organism in organic world occurs from center towards the edges simultaneously. In 1920 he has given his discovery a name: "the new vertical", the line going through the observer and around which the observation must take place equally in every direction.
Opening the familiar limits of perception in expanded vision, where the angle of view is brought to 180 degrees and then pushed backwards to complete the 360 degrees, rendering direction itself redundant. In open spaces, the familiar image is moved in an unfamiliar way, all planes become flat, all vertically standing objects (houses, trees, mountains) become a part of the enormous surface of the earth, forcefully moved upwards. His expanded observations lead him to conclude, that "the beauty of the universe wholly depends on the direct effect of the opposite plane".
Matiushin doesn't paint individual objects, he sees no separate, isolated form, but an endless connection and movement from one to another. Each object with its mass, volume, color are tightly connected to its environment, which affects the object, deforming all components of its form. His "spacial realism" is the "new objective-nonobjective truth", where the object doesn't need to be taken out of the painting's plane, but achieves a new image in a new spacial interrelation. Matiushin and his pupils never painted abstract things.
Following the observation Matiushin made daily for hours on the high "Eagle mountain" in a Finnish area Uusikirko, from which he could see in a radius of up to 30 km around him, he then documented his findings. Later in his workshops and in GINKhUK, Matiushin and his pupils conducted a huge research, studying color and the laws of color change in direct and expanded vision. They have discovered rules of color changes in its environment, as well as the intensifying of color in motion. In 1932, the very same year that the Central Committee of the Communist Party took measures to centralize all art organizations, Matiushin and his students have published "Zakonomernost' izmeniaemosti tsvetovykh sochetanii. Spravochnik po tzvetu" (The Laws Governing the Variability of Colour Combinations: A Reference Book on Colour), where they present thirty handmade color charts each of them showing a combination of three different colours, connecting two colors through a third, binding color, communicating to them an effect of incredible intensity and radiance.
For the first time color was studied not in an isolated way, but in relation to its environment, constantly changing in space and time. The artists have concluded that color is pleasing to our eyes fully only when we perceive it together with its environment, where the other colors add to its intensity and brightness.
The Reference book was made taking into account different industries of application: in architecture, textile, porcelain, printing etc. It was widely used by architects in the 1930s, and the third binding color was later studied specifically in various laboratories.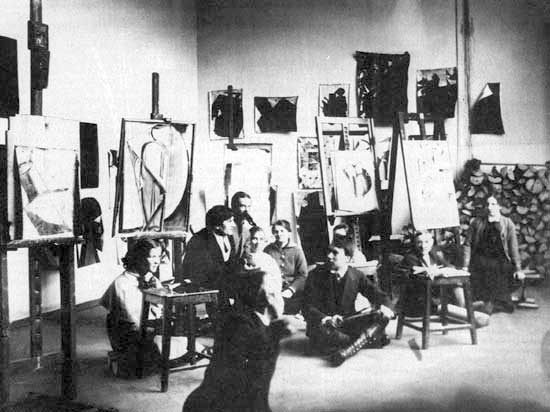 M.Matiushin, unknown artist, K.Malevich, N.Grinberg, M.Ender, unknown artist, P.Mansurov,
P.Miturich, N.Kogan. 1918. Taken by B.Ender.
Matiushin and his pupils have seen the world as a single complete organism, and aimed to see its wholeness and show it through their art. The artist wrote that he "sees a world with no limits and divisions. Sees the fluidity of all form and guesses, that all the seeming simple bodies and forms is nothing but prints of a higher organism, connected to the whole vision like the earth with the sky".
The artists want to go back to nature, to live as one with it, they long to become an active part of it. As if they are one of the trees, where a forest is painted, and not an artist standing at the clearing with an easel. "Our teacher is nature, and one should never leave off observing nature", Matiushin wrote. "To more fully express the creative essence of nature, one should observe freely, without grasping at the familiar details, without fear to lose the old in the new image. If one places oneself in unusual observation conditions, even the most thorough translation of vision will yield a result which is unexpected and hitherto unseen".
Kazemir Malevich has seen the work of Boris Ender, was interested by the way he organized In early 1920s, in GINKhUK, the forms in the plane, and offered him to come study and work in his department. "I offer you a straight line", he said. "But I am interested in a curve", Ender replied.
This argument is touching the very basic difference between the perception of the two ways. Malevich's Suprematism is made of straight, flat elements, volume is made from a sum of 3-dimensional straight elements. While in the system of organic perception there cannot be a sum of elements, because they appear as a whole. The curve rules here, connecting everything together, creating both a plane and a volume of undetermined form. The argument continued. "...Malevich on his path (canvas technique) has brought art to this ultimate end and forgot about the life of the organism", wrote Boris Ender in his journal in 1921.
A second part of the reference book was planned, but Matiushin has died before his research was complete. Maria Ender has continued working on the theoretical part, and created above 70 charts.
Opening of the exhibition in 2008 called: "Professor Matiushin and his pupils".
Reporting from 5-tv.ru (Russian) by Alexandra Tolubeyeva.