Jack (Knave) of Diamonds - Bubnovy Valet - Бубновый Валет
1910 - 1917, Member List
During the 1910s, artistic life developed at an abrupt, rapid pace. Declarations, manifests and slogans appeared, at times extravagant and deliberately shocking. But it was through the exhibitions themselves that the value of the avant-garde movements was established.
Goncharova, Schevchenko, Jawlensky, Yakulov were closely linked to the journal "The Golden Fleece" and the exhibitions organized by its publisher, N.Riabushinsky, in which many leading artists of the early twentieth century were included, both from Russian and abroad. Works by Bonnard, Braque, Gleizes, Derain, Le Fauconnier, Matisse and other French artists were shown alongside paintings by Larionov, Goncharova, Kuznetzov and Utkin. Russian artists were able to measure their work against the Western European school, to the enrichment of both. Russian artists also began to establish international reputations, exhibiting in both Germany and France.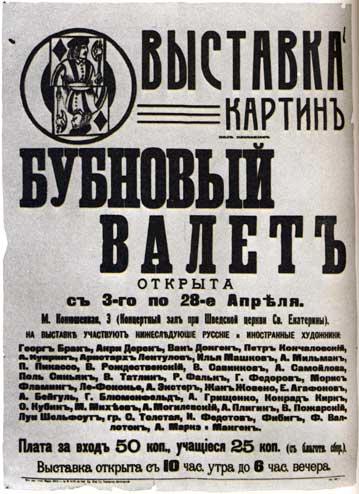 Poster for Exhibition of
Jack of Diamonds
group, 1913.
Alexey Jawlensky and Vassily Kandinsky played an important role in both Russian and German art. Both were represented in the Blaue Reiter exhibitions in Germany and took part in Russia in the Jack of Diamonds and other avant-garde exhibitions, and together logically formulated a style which abstracted forms from nature.
The first primitive works of Mikhail Larionov and Natalia Goncharova were shown at the exhibitions of the Golden Fleece and the Wreath-Stephanos (Moscow, 1907). They developed the Impressionism and decorative traditions of Borissov-Mussatov adding an irony taken from Symbolism to reach a further complexity. They were also interested in the "primitive" folk art of the provinces: shop signs, cheap popular prints (the Lubok), toys, billboards and advertisements, and were the first to start collecting such material.
From 1905 to 1908 Larionov and Goncharova worked towards a unified vision. Consciously simplified forms began to dominate their Impressionism and their colors became more and more expressive as they freely created a world closer to folk art. Whereas Larionov's work was ironic, Goncharova's had a more emotional and expressive quality, but these two leaders of the avant-garde shared a determination not to be restrained by any formal criteria or by the dictates of fashion. In the 1910 Goncharova openly declared, that "one should fear neither painting, nor literature, nor illustration, nor all the bugbears of modernism". She claimed the right for artists to appropriate all means according to their own aims.
Many new generation artists gathered around Larionov and in 1910, with Goncharova, the Burliuk brothers, Konchalovsky, Mashkov, Lentulov, Kuprin, Milman, Rozhdestvensky and Falk, he opened an independent exhibition, the Jack of Diamonds. The title itself expressed their enthusiasm and confidence, issuing a direct challenge to the public. Diamonds from a pack of cards where a familiar reference to prison uniforms and, since the time of the Italian Renaissance, the Jack had been recognized as the symbol of art. Within a year a group of artists of that same name was formed, and was to become the most influential exhibiting group of the period.
While each artist of the group had an individual style, there was much to unite them. They develop a primitivism using bright, decorative and sumptuous color, which adopted elements of the popular and folk art. The heritage of French paintings from Cézanne to the Cubism was also evident.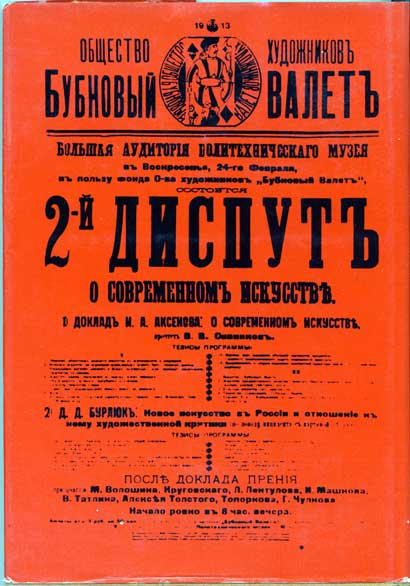 Poster for 2
nd
Dispute of
Jack of Diamonds
group, 1913.
Back cover of "Jack of Diamonds" by G.G.Pospelov.
Publishing "Sovetsky Khudozhnik", 1989.
The influence of Cézanne is clearly visible in Piotr Konchalovsky's powerful still life as well as in the work of Alexandr Kuprin, where the energy expressed through brush stroke and color gave the paintings a heightened drama. Ilya Mashkov, liberated from the constraints of literal description, intensified color and freely composed the objects he painted, emphasizing their form and structure.
One of Mashkov's students, Alexandr Osmiorkin, used the device reminiscent of a provincial photograph. The artist underlines physical form, but what is more surprising is his use of folk motifs. The painting is at the same time both refined and primitive.
Aristarkh Lentulov joined the Jack of Diamonds group and quickly assimilated modern painting techniques from Fauvism to Simultaneism, but he always retained a colorful and inventive quality that marks his kinship with his Russian predecessors. A kaleidoscope of vibrant forms, characteristic of Futurism, dominates his paintings. He drew them out like a magician produces a ribbon, taking motifs from traditional Russian cheap popular "Lubok" prints and Eastern Primitivism as well as from the "newest" elements of Western European art. Like Tatlin, Popova, Puny and others, Lentulov began experimenting with form and texture introducing new materials in an attempt to unite painting and sculpture. Less radical than his contemporaries, Lentulov's collages simply enhanced the effect of the painting rather than breaking new ground.
Robert Falk was also one of the organizers of the Jack of Diamonds, but of a younger generation. In his early work, as in many of his contemporaries', he used simplified, flat forms and muted color associations; but beneath there is a contemplative quality peculiar to Falk. His paintings show an engagement with the subject, and an inner psychological concentration, subordinating form and structure. Even in his more mature, Cubism work Falk maintained a spiritual quality that is particularly evident in his portraits.
Many artists exhibited both in Russia and abroad and painters such as Nathan Altman, Yuri Annenkov, Valentina Khodassevich, Alexandra Exter, Liubov Popova and David Shterenberg studied Cubism in Paris in the studios of Gleizes, Metzinger, Le Fauconnier, Ozenfant and Delaunay. Altman, for example, lived in France for two years and worked in the studios of Baranov-Rossiné, M.Vasilyeva, and the famous studios at La Ruche, which nurtured many young radical artists. Expression burst forth from his paintings through the harsh, mathematical logic of Cubism.
The artistic changes that had taken place in Europe over the decades were, in Russia, concentrated into a particularly short period. One result was a clash between different movements that at times seemed diametrically opposed. Even the academic traditions that the Wanderers and World of Art had struggled against were affected, giving birth to Neo-academism. Yakovlev, Shukhayev and in part, Petrov-Vodkin, worked in this style with its clearly defined color, form and logical structure. They, like the artists of the avant-garde, rejected the amorphous forms and ambiguity of Symbolism.
The continuing importance of traditional Russian painting can also be seen clearly in Petrov-Vodkin's work, alongside the influence of German and French Symbolism. His paintings are reminiscent of Russian icons in their simple, expressive form, clear composition and intense color. Like the Old Russian masters he uses color symbolically; his images become all-encompassing and metaphysical. He creates a world close to reality, but one that has its own eternal, inner harmony.
Petrov-Vodkin also devised a spherical perspective which he used to describe space and time, a technique he continued to develop in later works. Such modernization of traditional art forms was one approach adopted in the 1910s, and was to bear fruit especially in the next decade. But it was the more radical movements that sought completely new forms that were to be the greatest influence on the arts from 1910 to 1920. These movements, not always termed correctly as Futurism, were those to which the most significant writers and artists of the time were connected.